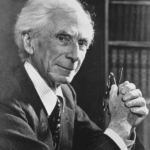 (born May 18, 1872, Trelleck, Monmouthshire, Wales—died February 2, 1970, Penrhyndeudraeth, Merioneth), British philosopher, logician, and social reformer, founding figure in the analytic movement in Anglo-American philosophy, and recipient of the Nobel Prize for Literature in 1950. Russell's contributions to logic, epistemology, and the philosophy of mathematics established him as one of the foremost philosophers of the 20th century. To the general public, however, he was best known as a campaigner for peace and as a popular writer on social, political, and moral subjects. During a long, productive, and often turbulent life, he published more than 70 books and about 2,000 articles, married four times, became involved in innumerable public controversies, and was honoured and reviled in almost equal measure throughout the world. Russell's article on the philosophical consequences of relativity appeared in the 13th edition of the Encyclopædia Britannica.
Russell was born in Ravenscroft, the country home of his parents, Lord and Lady Amberley. His grandfather, Lord John Russell, was the youngest son of the 6th Duke of Bedford. In 1861, after a long and distinguished political career in which he served twice as prime minister, Lord Russell was ennobled by Queen Victoria, becoming the 1st Earl Russell. Bertrand Russell became the 3rd Earl Russell in 1931, after his elder brother, Frank, died childless.
Russell's early life was marred by tragedy and bereavement. By the time he was age six, his sister, Rachel, his parents, and his grandfather had all died, and he and Frank were left in the care of their grandmother, Countess Russell. Though Frank was sent to Winchester School, Bertrand was educated privately at home, and his childhood, to his later great regret, was spent largely in isolation from other children. Intellectually precocious, he became absorbed in mathematics from an early age and found the experience of learning Euclidean geometry at the age of 11 "as dazzling as first love," because it introduced him to the intoxicating possibility of certain, demonstrable knowledge. This led him to imagine that all knowledge might be provided with such secure foundations, a hope that lay at the very heart of his motivations as a philosopher. His earliest philosophical work was written during his adolescence and records the skeptical doubts that led him to abandon the Christian faith in which he had been brought up by his grandmother.
In 1890 Russell's isolation came to an end when he entered Trinity College, University of Cambridge, to study mathematics. There he made lifelong friends through his membership in the famously secretive student society the Apostles, whose members included some of the most influential philosophers of the day. Inspired by his discussions with this group, Russell abandoned mathematics for philosophy and won a fellowship at Trinity on the strength of a thesis entitled An Essay on the Foundations of Geometry, a revised version of which was published as his first philosophical book in 1897. Following Kant's Critique of Pure Reason (1781, 1787), this work presented a sophisticated idealist theory that viewed geometry as a description of the structure of spatial intuition.
Books Of Bertrand Russell