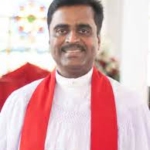 The Revd Dr.C.I.David Joy is a presbyter of the Church of South India, South Kerala Diocese and currently he is Professor, teaching New Testament, at the United Theological College, Bangalore. He is also an editor for the International Journal of Sociology and Anthropology. He is a board member of the Journal for Postcolonial Theologies and Theories, published by Postcolonial Network, Sophist Press, USA. He is also one of the editorial board members of SOMA a Journal published by St.John's University of Tanzania.
His recent books include: Christology: Re-visited: Profiles and Prospects (Bangalore: ATC, 2007), Mark and its Subalterns: A Hermeneutical Paradigm for a Postcolonial Context (London: Equinox, 2008), Not by the Might but by the Spirit (Delhi: ISPCK, 2008) , and Kurisile Rithubhedangal (Trivandrum:TTF,2009), Kurisithe Dhyanavazhikal (Tiruvalla: CSS, 2012), I and 2 Peter: A Commentary (Kottayam: TLC, 2012), Hermeneutics: Foundations and New Trends (Delhi:ISPCK, 2012) and Kurisnte Dhyanavazhikal (Tiruvall:CSS, 2012).His recent edited volumes include Biblical Theology (Tiruvalla:CSS, 2008), Transforming Praxis (Delhi:ISPCK, 2008), Bible and Hermeneutics(Tiruvalla: CSS, 2010)and co-edited along with Joseph Duggan, Decolonizing the Body of Christ: Theology and Theory after Empire? (Hampshire: Palgrave Macmillan, 2012).
His forthcoming publications include "Global Perspectives on Matthew" in Global Perspectives on the Bible [Paperback], edited by Mark Roncace and Joseph Weaver, "Remapping the Use of the Bible in colonial/Postcolonial India", in Swedish Missiological Themes SMT, vol. 100, no 4, 2012 and "Remapping the Milieu of the New Testament through Intertextual Reading"in Liberation Hermeneutics in the Indian Interpretation of the Bible, eds. K.Jesurathnam, Abraham Saggu and Hrangthan Chhunghi, Tiruvalla: CSS/SBSI, 2012.
Dr. David Joy's wife Mrs. Sherin David Joy is a teacher at the Oasis Interantional School, Cox Town, Bangalore and his sons Ashwin David Joy and Anbin David Joy are studying in Bishop Cotton Boys School, Bangalore in the 12th and 9th standard respectively.