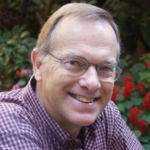 Rev Dr Christopher J H Wright MA, PhD (Cantab)
Chris Wright was born in Belfast, Northern Ireland in 1947, the son of missionary parents, and nurtured as an Irish Presbyterian. After university in Cambridge, he started his career as a schoolteacher in Grosvenor High School, Belfast. Then, after completing a doctorate in Old Testament economic ethics in Cambridge, he was ordained in the Church of England in 1977 and served as a curate in the Parish Church of St. Peter & St. Paul, Tonbridge, Kent.
In 1983 he took his family to India and taught at the Union Biblical Seminary (UBS), Pune for five years as a mission partner with Crosslinks (formerly BCMS). While at UBS he taught a variety of Old Testament courses at BD and MTh levels. In 1988 he returned to the UK as Academic Dean at All Nations Christian College (an international training centre for cross-cultural mission). Then he was appointed Principal there in September 1993.
In September 2001 he was appointed International Ministries Director of the Langham Partnership. This is a group of ministries originally founded by John Stott, committed to strengthening the church in the Majority World through providing resources for training evangelical theological educators to doctoral level, providing and helping to create evangelical Christian literature, and training pastors and lay leaders in biblical preaching.
Chris was the Chair of the Lausanne Theology Working Group from 2005 - 2011, and was the chief architect of The Cape Town Commitment - the Statement of the Third Lausanne Congress in October 2010.
Chris and his wife Liz, who have four adult children and eleven grandchildren, belong to All Souls Church, Langham Place, London, where Chris enjoys preaching from time to time as a member of the Staff team. Chris, who enjoys running, birding, and watching rugby, has a passion to bring to life the relevance of the Old Testament for Christian mission and ethics, and loves preaching and teaching the Bible.
His books include:
Knowing God: The Trilogy: Knowing God the Father, Jesus, and the Holy Spirit through the Old Testament (Langham and InterVarsity: 2018)
Deuteronomy: Understanding the Bible Commentary (Baker: 1996)
The Message of Ezekiel, The Bible Speaks Today (IVP: 2001)
The Message of Jeremiah, The Bible Speaks Today (IVP: 2014)
The Message of Lamentations, The Bible Speaks Today (IVP: 2015)
Old Testament Ethics for the People of God (IVP: 2004)
The Mission of God: Unlocking the Bible's Grand Narrative (IVP: 2006)
Salvation Belongs to Our God: Celebrating the Bible's Central Story (IVP and Langham: 2008)
The God I Don't Understand (Zondervan: 2009).
The Mission of God's People: A Biblical Theology of the Church's Mission (Zondervan: 2010)
How to Preach and Teach the Old Testament for All It's Worth (Zondervan: 2016)
Hearing the Message of Daniel (Zondervan: 2017)
The Old Testament in Seven Sentences (InterVarsity: 2019)
Exodus: The Story of God Bible Commentary (Zondervan: 2020)