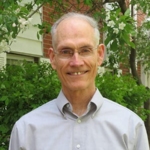 Dean Flemming is professor of New Testament at MidAmerica Nazarene University, Olathe, KS. He served as a theological educator in Asia and Europe for more than 20 years. His special research interest is the connection between the Bible and mission.
He is the author of several books, including two that have won awards: Contextualization in the New Testament and Philippians: A Commentary in the Wesleyan Tradition. His most recent book is Self-Giving Love. In addition, he has written numerous journal articles and chapters in multi-author works.
Dean holds a Ph.D. in New Testament from the University of Aberdeen, Scotland. He was previously on the faculty of European Nazarene College in Büsingen, Germany and Asia-Pacific Nazarene Theological Seminary in Manila, Philippines. He has taught in many countries throughout the world. Dean has also served as a local church pastor in the U.S. and Japan. He enjoys hiking and bike riding.