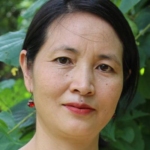 Dr. I Lanusenla Ao hails from Nagaland, India, and is a member of the Ao Baptist Church. She has served as General Secretary Cadet, Christian Youth Endeavour at Tuensang Ao Baptist Church, Nagaland, as Chaplain of the North East Indian Christian Fellowship, Madurai, Tamilnadu, India, as Advisor of the North East Fellowship, Jabalpur, Madhya Pradesh. She has served as Associate Professor at Leonard Theological College, Jabalpur, India and at Gossner Theological College, Ranchi, Jharkhand.
She earned Bachelor of Divinity (B.D.) at Eastern Theological College, Jorhat, Assam, Master of Theology (M.Th.) specialising in Christian Communication (Christian Ministry) at United Theological College, Bengaluru, Karnataka, and Doctor of Theology (D.Th.) at Tamilnadu Theological Seminary, Madurai.
She has two books to her name, entitled 'Communicating Christian Thoughts on Voiceless Tribal Women: A Sociological Perspective.' and 'Preaching the Gospel in a Media Saturated World.' She was also an editor of journals Sandeshharika (Prophetess's Voice) while at Leonard Theological College and Adivasi Journal of Theology at Gossner Theological College. She has presented papers and contributed numbers of articles in various national and international journals.
In addition to involvement in teaching ministry, she has organised and performed with students in Street Play/Theatre in various places based on various social issues that are commonly faced in the society, such as the problems related to Alcoholism, Child Labour, Women's Rights, HIV/AIDS Awareness, etc.