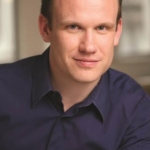 Kerrick Thomas serves as pastor at The Journey Church in NYC (www.JourneyNYC.com) and leads its 3 Manhattan locations in the Village, Upper West Side and Upper East Side. He and his wife, Lorie, moved to New York City in July 2001 to help start The Journey Church.
Kerrick has co-authored two church leadership books with Nelson Searcy (Founding Pastor of The Journey Church) - "Launch: Starting A New Church from Scratch" and "Activate: An Entirely New Way of Doing Small Groups." Kerrick regularly invests in other pastors by leading church systems seminars and coaching networks for Executive Pastors, Church Planters and Small Group Pastors.
Originally from Winfield, Alabama - Kerrick graduated from Furman University with a degree in History & Political Science and earned his Master of Divinity at Princeton Theological Seminary. Kerrick and his wife, Lorie, live in East Harlem with their 3 children – Hudson, Jackson and Sydney.