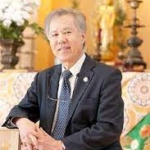 Dr. Kenneth Kenshin Tanaka is an author, editor, scholar, and translator whose work focuses on Buddhism. He has also been ordained as a Jōdo Shinshū priest.
Kenneth K. Tanaka was born in 1947 in Yamaguchi, Japan, but moved to California as a child with his Japanese American parents. He was introduced to Buddhism at the Mt. View Buddhist Temple, where he attended Sunday school and the Young Buddhist Association (YBA). After graduating from Stanford University in 1970 with a degree in Cultural Anthropology, he took a year-long journey around the world that included a stint as a monk in a Buddhist monastery in Thailand. He then entered the M.A. program at the Institute of Buddhist Studies. In Japan, he studied at Tokyo University where he earned an M.A. in Indian Philosophy, followed by his ordination in 1978 as a Jodo Shinshu priest. Returning to the US, he earned a Ph.D. in Buddhist Studies at University of California, Berkeley.
Dr. Tanaka's first professional position was at the Institute of Buddhist Studies, where he spent 11 years on its staff. He then took a leave for 3 years to become the resident minister at the Southern Alameda County Buddhist Church. In 1998, he was appointed professor at Musashino University. He has also taught courses at Tokyo University, Ryukoku University (Kyoto), Renmin University (Beijing), and Dharmaram College (Bangalore). He currently serves as president of two academic associations: the International Association of Shin Buddhist Studies and the Japanese Association for the Study of Buddhism and Psychology, and is a board member of the Association of Buddhist Christian Studies. His publications include The Dawn of Chinese Pure Land Buddhist Doctrine, Ocean: An Introduction to Jodo Shinshu Buddhism in America, and Amerika bukkyo (American Buddhism).
Books Of Kennath K. Tanaka