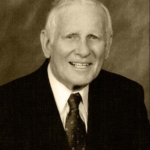 A native of Michigan, Kenneth W. Osbeck entered the world on December 13, 1924. A World War II veteran, he earned a Master of Arts degree from the University of Michigan. He was well-known for his sixteen books related to hymn stories and music ministry, and he was awarded an Honorary Doctor of Letters degree from Cornerstone University. He taught music and fine arts for 35 years on the faculty of Cornerstone University and the Grand Rapids School of the Bible and Music. He served as minister of music in seven churches in the Grand Rapids area, and he directed music for the Children's Bible Hour, Youth for Christ, the Radio Bible Class, and Diadem Records.
After he retired from teaching, he and his wife, Betty, traveled extensively for many years presenting over 600 dramatized hymn story programs.
His books about the stories behind our hymns will live on as a memorial to his love for God and our worship of Him. His books included 101 Hymn Stories; 101 More Hymn Stories; the best-selling Amazing Grace: 366 Inspiring Hymn Stories for Daily Devotions; Hallelujah, What a Savior!; 25 Most Treasured Gospel Hymn Stories; and Joy to the World.